Fine Cheeses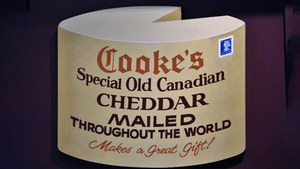 At Cooke's Fine Foods, we are proud to operate one of the only full-service cheese counters in Kingston. Our dedicated Cheesemonger selects cheeses from around the world to import for sale, and our trained staff offer pairing suggestions and charcuterie tips on request. Come into our Brock Street location for an experience not to be missed!
We are excited to offer our signature Cooke's Cheddar for sale online! 
For specific product inquiries, please email sales@cookesfinefoods.com.

Please Note: Cheese sales are restricted to Local Delivery and Local Pickup from April 1st to October 1st each year. If you attempt to order from outside of our Local Delivery radius, the website will automatically prevent you from completing your purchase. We apologize for any inconvenience.
Fine Cheeses